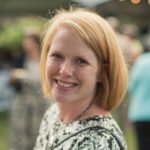 Blake Hite Slusser, LCCE, FACCE is so excited to provide services that promote safe and healthy birth in convenient locations to participants.  She has been a Lamaze Certified Childbirth Educator since 2012 and became a Fellow in the American College of Childbirth Educators in 2016.  Learn more about why Blake chose Lamaze here.
Blake believes that quality childbirth education should be available to all mothers. She provides an interactive learning experience to help families understand the birth process and feel confident in their decision making in their big day. To learn more about Tappahannock classes click here.
Blake's commitment to empowering families now is available in new regions! Birthing Babies VA now offers a Lamaze-Accredited Childbirth Educator Seminar to help prepare childbirth educators (new and existing) to receive childbirth educator certification through Lamaze International. Seminars are scheduled throughout the United States to remove travel barriers to seminar participants.  To find a seminar close to you click here.
If you are interested in learning more about childbirth classes or attending/hosting a childbirth educator seminar Blake can be reached at birthingbabiesva@gmail.com.